Gaming Istanbul: The Name of the Game
Posted on January 28th, 2017
With the onset of February, Turkey will witness a swarm of gamers flocking to its beautiful city, Istanbul. The reason is Gaming Istanbul(GIST) and Developers Conference(DC) 2017. DC will be held on 1st Feb 2017 and GIST will commence from 2nd to 5th Feb at Istanbul Congress center. The expo spans an area of 10,000 sqm. The theme for DC 2017 is "Games Marketing, Games Development Pipeline and VR". Virtual Reality is still in the limelight and we all want to ace the art of developing and marketing the games. So, insights on these three topics will be really enriching.
You will get to attend knowledge sharing sessions from speaker like Troy Mashburn from Playstation, Kate Edwards from International Game Developers Association (IGDA), Volga Aksoy from Oculus, Burak Emiralp from Samsung, Ciro Continisio from Unity3D etc. Also, there would be sessions on PR and Marketing from Claas Wolter-PR Director of Marchsreiter Communications GmbH, Gareth Williams-Director of Premier Communications, Tuğbek Ölek-Founder of SETI Media, and Victor Perez-Director of Reset PR. The legendary sponsor for the event is Turkcell. The participants include PlayStation, Netmarble, Play store, Seti, Redbull Gaming etc. Here the entire list of participants.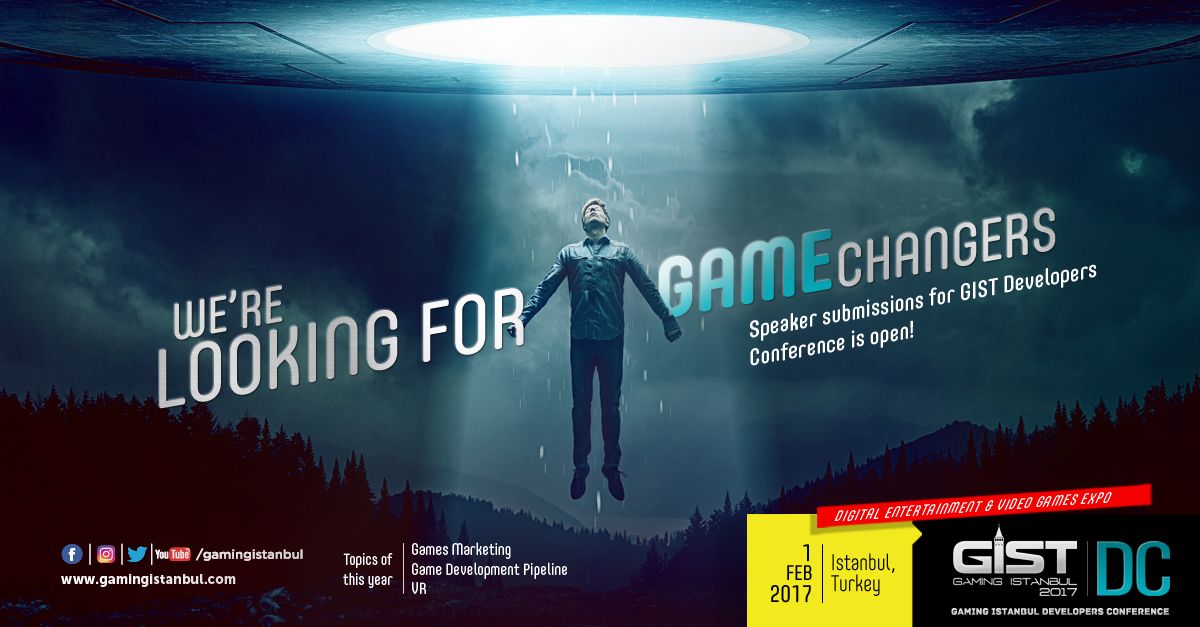 According to a presentation by Google at GDC-2015, Turkey is "one of the fastest growing game markets". Turkey has an advantage of lying at the cusp of Europe and Asia. Thus, it is a gateway for many global players and a hub of great business opportunities.
The city of Istanbul, known for its rich culture, history and magnificent architecture is ready to welcome everyone who loves games. It's your chance to be visible to around 50,000 visitors, over the span of 4 days. Undoubtedly, this will provide the much needed exposure and recognition to your brand.
GIST supports Indie developers by providing them free booths. You can widen your network through various B2B and B2C interactions. This can be instrumental in getting in touch with the distributors or investors that can accelerate your growth. You must fulfill some requirements to qualify to be at the Gaming Istanbul Indie Area.
If you are a professional, you can grab the career opportunities you were always waiting for. Gaming Istanbul Game Career Zone should be your destination if you wish to pursue a career in gaming. There would be seminars to take you through the education avenues in the gaming industry and in game development.
This gaming event in not limited to computer games. The participants range from teenagers to people in their 40's. You get to interact with a variety of people and organizations like game studios, distributors, producers, designers, developers, media, toy producers & distributors. You can enjoy to your heart's content at the tournaments and competitions that will give you an adrenaline rush. The event would have been incomplete without the DJ party, Concerts and Cosplayers that keep the venue buzzing.