Running In Circle: Heo Vs A Deadly Beast
Posted on September 29th, 2017
You love sitting at the stands of Las Ventas and watching bullfighters jumping into the crowd. Yet, you never dare entering the ring to dodge a 1000 kg angry bull rushing towards you. But admit the fact, you must have a dream to taste the thrill.
For all such dreamers, we bring a one-touch arcade game, Running in Circle, packing all the fun of giving a chasing bull the slip and survive. Before you turn into a great escaper, we think you would love to skim through this short story of Heo, the game character: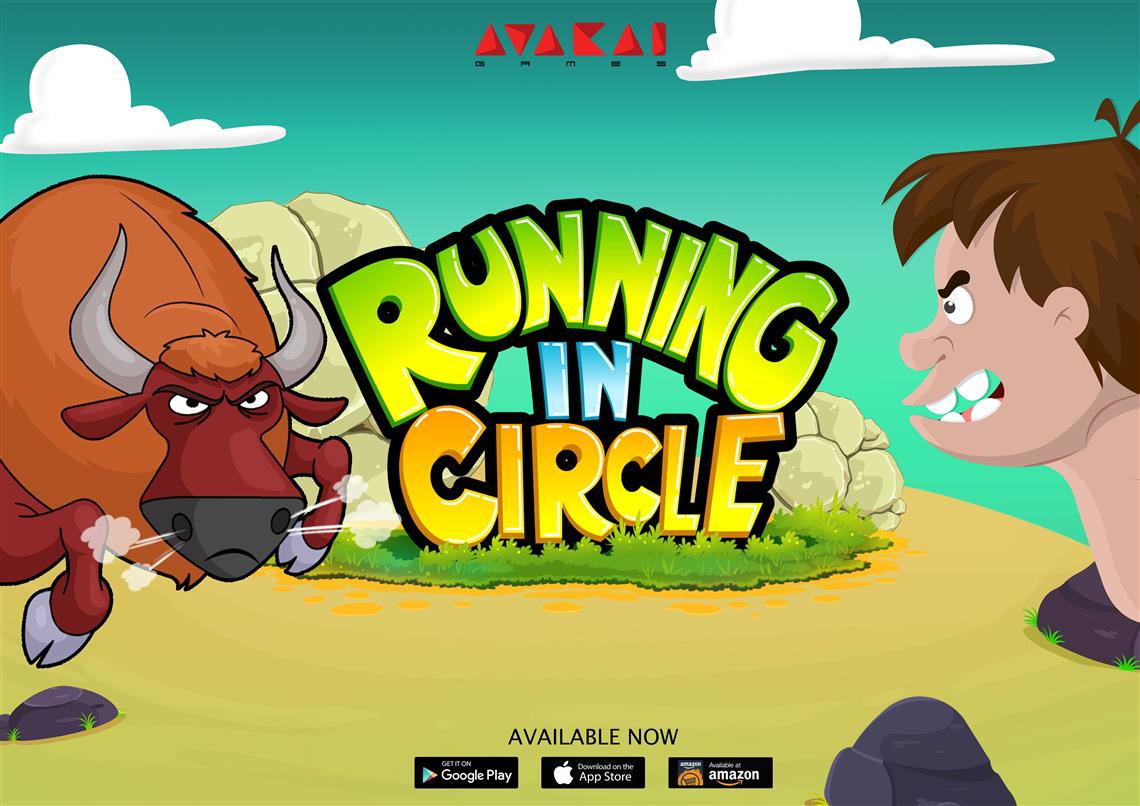 This jungle boy has a desire to show off his bravado to his friends. One fine morning, he pulls a stunt and messes with a bull. And then starts the saga. Heo becomes the Usain Bolt and runs for his life. He reaches a boulder which seems to be a traffic circle in his way and strategically, starts running around it. Smartass!
But he has a stroke of hard luck again. He runs across a herd of bulls that are on a rampage to make things worse. That's so sad!
Now, it's your turn to dive into action and save Heo as long as possible because the longer he survives, the more you score.
Ready, Set, Go!
This time killer is available on the App Store, Google Play, and Amazon.com and it's all free for you. Challenge the hundreds of escapers who strive to top the leaderboard by signing yourself into the Amazon Game Circle before you start playing.
Unlock your gadget and tap the game to enter the arena. You can see the angry bull giving a chase to our heroic Heo. To change his direction at any moment, just tap anywhere on the screen and be aware of the herd that comes from the corners while making a move.
Heo runs around the rock and the bull is right behind him. He runs fast but the bull is much faster. It comes so close to him. You can't help but watching it gore him brutally in a few more fractions. But, luck visits him as the bull runs into another that has come suddenly and he survives the moment and so do you. However, the run continues.
Tables can be turned in no time. What has been the protector of Heo a few seconds ago, may imperil him now. The chasing bull suddenly changes its course and so should he. Like before, a bull comes from nowhere. But this time, it is Heo running into the bull. Oops! He is in the middle of two beasts what seem to toss him into air. To be out of harm's way, your brain and the finger should be quick enough to sway Heo. But when fate doesn't favor, the bulls will see him in hell before your game ends.
However, we always love to help you pull off something great and hence, we offer you an extra life. So even when a bull strikes down Heo, you can revive him by tapping on the option to watch a video. But remember, this is just a one-time favor for you.
This game mainly wants a forevision to escape from the rampaging bulls. With the swift change-of-direction of the chaser and a hustling herd coming all around, it takes some time to identify the raider and change heo's direction. Even a second's delay would give the bull enough time to trash him.
You would know by then that a high score in this game is not a beginner's luck. Then why don't you share your best figures? We give you a whole lot of options to share your highscore with your friends and challenge them to beat it.
When you come back to the game again and again, you would feel the fact that sometimes an entertainer can be smaller in size and simpler in looks. We bet it!