White Nights Prague 2018
Posted on February 1st, 2018
The City of a Hundred Spires welcomes all the game devs and professionals for White Nights Prague '18 which is scheduled on 13th and 14th February at Clarion Congress Hotel, Prague, Czech Republic. With more than a thousand attendees representing 40 countries, White Nights is one of the largest business conferences for the game industry, organized by Nevosoft.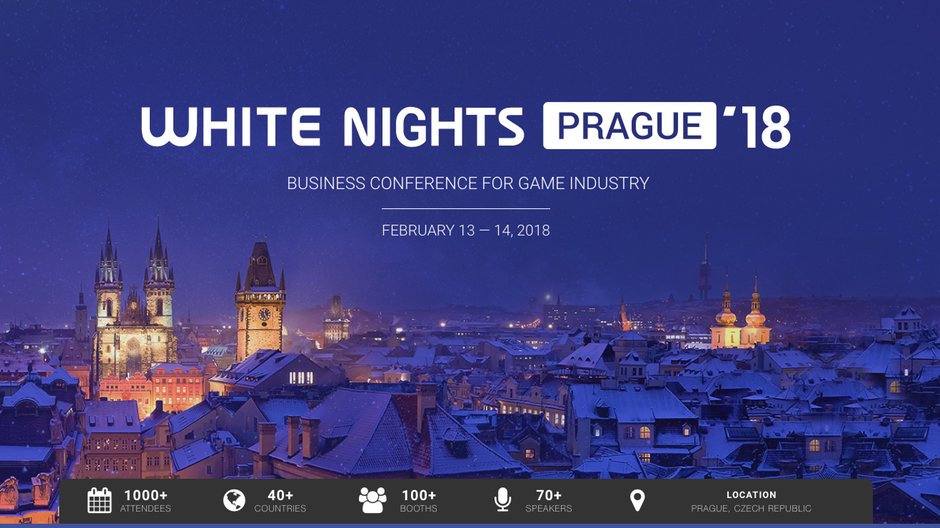 For one who is looking for a platform to spread one's network, White Nights is unmissable. This two-day event is a potpourri of indie developers and professionals from leading analytics, advertising, billing, development, graphics, publishing and platform companies. Thus, the conference makes way for one to meet some of the brightest brains in the game industry. White Nights fills your cup with precious knowledge on latest trends in game development and marketing. More than 70 professionals who lead the changes in the industry, take the stage to speak on what's cooking in the game world.
At the White Nights conference's Developer Exhibition, developer teams demonstrate their beautiful games that are unique with cutting-edge technologies. Exhibiting your game, be in beta version or higher, is a great opportunity to find investors, publishers or partners to join you. The exhibition also guarantees valuable feedback for your dream project.
Indie Game Cup Prague 2018, which is free for any game in its beta version or higher, is a prestigious contest for indies who want to be in the limelight. The competition includes six categories such as Best Art, Best Game Design, Best Storytelling, Best VR Game, Amazon Choice, and Grand Prix. The winners are announced at the award ceremony on the last day of the event.
White Nights is incomplete without freaking parties where you meet new friends and build connections. Even before the inauguration of the event, you get to mingle with so many industry professionals at the welcome party, the night before. Later on the day1, you further get to chill out with the folks at the full-night party. In the chilling winter days in Prague, warm up yourself with an extended network, enhanced exposure, and new opportunities. So guys, are you ready?